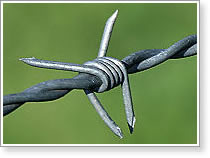 Barbed wire makes common security toppings. As the most common and well-known fence -barbed wire, we offer three twisting patterns. We offer normally barbed wire in galvanized finish or plastic coated finishes for a locations requiring additional anti-climb capability at minimal extra cost.
Specification
| | |
| --- | --- |
| Material: | Electro galvanized wire, hot dipped galvanized wire, PVC coated wire, stainless steel wire |
| Wire Gauge: | 1.0mm ~ 4.0mm(BWG8# ~ 20#) |
| Barb Distance: | 75mm ~ 150mm |
| Barb Length: | 15mm ~ 30mm |
| Packing: | In coil of 25 kilos or 50 kilos net, lined with P.V.C strips, then wrapped with P.V.C cloth or hessian cloth. |
Information
Barbed wire has 3 different types of weaving: single twist barbed wire, traditional twist barbed wire and double twist barbed wire.





PVC coated barbed wire can enhance corrosion resistance further. Because of the special nature of PVC, it will not change color and fall off even if long-term under sun and rain. Colors can be customized freely according to customer requirements.


Gauge of Strand
and Barb
in B.W.G.
Approximate Length per kilogram in Meter
Barbs Spacing 3"
4"
5"
6"
12x12
6.0617
6.7590
7.2700
7.6376
12x14
7.3335
7.9051
8.3015
8.5741
12-1/2x12-1/2
6.9223
7.7190
8.3022
8.7221
12-1/2x14
8.1096
8.814
9.2242
9.5620
13x13
7.9808
8.899
9.5721
10.0553
13x14
8.8448
9.6899
10.2923
10.7146
13-1/2x14
9.6079
10.6134
11.4705
11.8553
14x14
10.4569
11.6590
12.5423
13.1752
14-1/2x14-1/2
11.9875
13.3671
14.3781
15.1034
15x15
13.8927
15.4942
16.6666
17.5070
15-1/2x15-1/2
15.3491
17.1144
18.4060
19.3386
Contact Us
| | |
| --- | --- |
| Telephone Number: | 86-318-7510021 |
| Fax Number: | 86-318-7800021 |
| E-mail: | sales@anpingweiqi.com |
| Contact Person: | Mr.Chen (Sales Manager) |