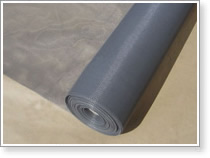 Window Screening Insect Screening is used for industrial purposes, window doors and poultry's guards, sieves, filters and other purposes. Varieties available for insect screening: Electro galvanized insect screening, aluminum alloy insect screening, stainless steel insect screening, fiberglass insect screening, enamelled iron insect screening, etc.
specification
| | |
| --- | --- |
| Material: | Galvanized Iron, Stainless Steel, Plastic-Coated Iron, Aluminum(Alloy), Fiberglass |
| Mesh: | 12*12mm ~ 30*30mm |
| Length: | 50m to 300m |
| Width: | 2m ~ 6m |
| Color: | Green (dark, light), Gray (dark, light), Blue (dark, light), Pure white, Black, red, yellow and so on. |
| Packing: | Each roll packed in plastic bags; then 2 to 6 rolls in one carton. |
Information
Plastic Window Screening
Material: PVC
Color: Various colors available
Weaving: Plain weave
Property: Light weight and beautiful appearance
Application: Civil construction againt flies and mosquito
Fiberglass Window Screen
Fiberglass Insect screening is woven from PVC coated single fiber. Fiberglass Insect screening makes ideal material in industrial and agricultural buildings to keep away fly, mosquito and small insects or for the purpose of ventilation. Fiberglass insect screen offers excellent properties of fire resistance, corrosion resistance, heat resistance, easy cleaning, good ventilation, high strength, stable structure, etc.
Aluminum Alloy Window Screen
Aluminum Alloy Window Screen is also named magnalium wire netting or aluminum wire netting. It is weaved by the Al-alloy wire which contained magnesium, and the color is silvery white.
Aluminum Alloy Window Screen can be coated to green, silver gray, yellow and blue by the epoxy resin, so it also named epoxy resin aluminum wire netting.
Aluminum Alloy Window Screen coated epoxy resin is the slap-up product, mainly exporting to America and Europe.
Material: magnalium alloy wire
Mesh: 14 X14,16X16, 18X18, 18X14
Wire Dia.:0.18-0.5mm
Width: 50cm-150cm (24-60 inch)
Weaving: type I and type II
Characteristic: The intensity of magnalium alloy wire is higher than the one which does not contain the magnesium. The last one has been fallen into disuse by our factory.
The picture of Aluminum Alloy Window Screen is as followed.
Welcome to our factory, and we will provide you the high quality Aluminum Alloy Window Screen.
Stainless Steel Window Screen
Material: 304, 316, 316L
Color: Bright
Weaving: Plain weave
Property: Good stability and resistance to rust, heat, acid, alkaline and corrosion
Application: High temperature workshops and civil constructions.
Window Screens Variety
Mesh/Inch
Wire Gauge
Roll Size
Gal.Iron Window Screens
10 x 10
14 x 14
16 x 16
18 x 18
18 x 14
22 x 22
24 x 24
BWG31
BWG32
BWG33
BWG34
3' x 100'
4' x 100'
1 x 25m
1.2 x 30m
1.5 x 25m

Enamelled Iron Wire Window Screens
Same as above
Aluminum Coated Iron Wire Window Screens
Same as above
Aluminum Wire Window Screens
Same as above
Fiberglass Window Screens
12 x 12
14 x 14
16 x 16
16 x 14
BWG31
BWG32
3' x 100'
4' x 100'
1 x 25m
1.2 x 25m

PVC Wire Window Screens
12 x 12
14 x 14
16 x 16
18 x 18
18 x 14
20 x 20
As above
Stainless Steel Wire Screens
14 x 14
16 x 16
18 x 18
18 x 14
20 x 20
BWG38
BWG37
BWG36
BWG35
BWG34
3'x 100'
4'x 100'
1 x 25m
1.2 x 25m
PVC Coated Window Screens
12 x 12
14 x 14
16 x 16
18 x 18
BWG31
BWG32
As above
Contact Us
| | |
| --- | --- |
| Telephone Number: | 86-318-7510021 |
| Fax Number: | 86-318-7800021 |
| E-mail: | sales@anpingweiqi.com |
| Contact Person: | Mr.Chen (Sales Manager) |