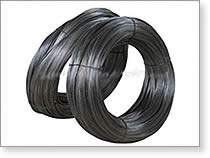 Soft Annealed Wire known as black oil iron wire or black annealed wire. The soft annealed wire is more economic than the Cold drawing hard wire for making nails.Black annealed wire is mainly processed into coil wire, spool wire or big package wire. Or further straightened and cut into cut wire and U type wire. Black iron wire is mostly used in construction or used as tie wire or baling wire in building, parks and daily binding.
Specification
| | |
| --- | --- |
| Material: | Iron wire or Carbon steel wire |
| Wire diameter: | 0.16 ~ 15.0mm |
| Tensile strength: | 300 ~ 500MPa. |
| Elongation: | 15% |
| Packing: | Spools, coils. |
Soft Black Annealed Wire
Wire Diameter
Strength
Packing
Weight
Application
0.16mm-0.6mm
30-40kg
Coils or spools
2-100kgs
Binding wire for Christmas trees
0.6mm-5.0mm
30-40kg
Big package
100-800kgs
0.16mm-0.6mm
60-70kg
Coils or spools
2-100kgs
0.6mm-5.0mm
60-70kg
Big package
100-800kgs
Information
Black annealed wire gets its name from its plain black color.Soft annealed wire offers excellent flexibility and softness through the process of oxygen free annealing.
Annealed wire is obtained by means of thermal annealing, endowing it with the properties it needs for its main use - setting. This wire is deployed both in civil construction and in agriculture. Hence, in civil construction annealed wire, also known as "burnt wire" is used for iron setting.
Annealed wire does not usually have any type of protective lining, paper or plastic.It is stored in coils or spools of a varying weights and dimensions depending on the purposes for which it is intended and the needs of clients.
Contact Us
| | |
| --- | --- |
| Telephone Number: | 86-318-7510021 |
| Fax Number: | 86-318-7800021 |
| E-mail: | sales@anpingweiqi.com |
| Contact Person: | Mr.Chen (Sales Manager) |