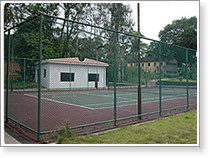 Sport fence is designed to keep the ball inside the area of play and to protect the public. Our wire mesh fences are proved to perform robustly and to provide a visually attractive solution to the needs of both spectator and participant.
Specification
| | |
| --- | --- |
| Material: | Welded wire mesh, woven mesh, chain link fence |
| Process: | Galvanized, Vinyl coated, PVC coated. |
| Height: | 0.5m ~ 4m |
| Width: | 1m ~ 25m |
| Mesh Size: | 24mm ~ 72mm |
| Wire diameter: | 2mm ~ 5mm |
Information
Chain Link Fencing Series
Chain link fence is ideal for all types of sports facilities including football, rugby, hockey, tennis, etc. It comes in a variety of sizes, strengths, and finishes, which should be selected based on the purpose of customer's.

Welded Mesh Panel Series
Merit of welded mesh panel: firmly and durable, multi-grid pattern, broad vision, aesthetically pleasure. It's applicable to stadium ,aged apartment,fitness place.

Contact Us
| | |
| --- | --- |
| Telephone Number: | 86-318-7510021 |
| Fax Number: | 86-318-7800021 |
| E-mail: | sales@anpingweiqi.com |
| Contact Person: | Mr.Chen (Sales Manager) |