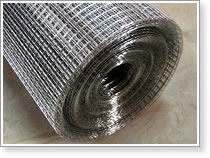 Electric Welded Wire Mesh Processed automatically by the high-quality iron wire, the advanced welding craft is welded vertically and horizontally respectively at every intersect. After electro galvanized, hot dipped galvanized, or pvc coated, the finished product is smooth, flat with sturdy structure, excellent anti-corrosion resistance. It can be mainly used in industry, agriculture, breeding, building, transportation, mine, etc, like poultry field, lawn, machine protection, egg basket, shelf, fruit juice filtering, guardrail, etc.
specification
| | |
| --- | --- |
| Material: | Galvanized Iron, Stainless Steel, Plastic-Coated Iron |
| Standard length per roll : | 30m |
| Standard width per roll: | 0.5m to 1.8m |
| Packing: | Welded mesh is wrapped in waterproof paper in rolls. Then in cartons or in pallet. |
Information

Electro Galvanized Welded Wire Mesh
E.G Welded wire mesh enjoys the feature of corrosion resistance compared with plain welded wire mesh. Mainly used as fencing panels,wire container panels, wire baskets, welded wire fences, poultry fences and other welded products.


Hot-dipped Zinc Coated Welded Wire Mesh
Hot dipped zinc coated welded wire mesh is made in accordance to English Standard normally in regard to the production and zinc coating. The finished welded mesh offer flat and uniform surface, firm structure, good integrity. It offers the most excellent anti-corrosion resistance among all the steel wire mesh products.
Features and Application:with its excellent anti-corrosion property,it is very popular in breeding industry: for animal cages or fences; and widely used in mine sieving industries as sieving screen. The zinc coating offers a kind of decorative outlook with its flat surface.

PVC Coated Welded Mesh
It is made of high-quality galvanized iron wire, then coated with PVC powder by advanced automatic equipments. The plastic coating layer is strong adhesive,and has bright luster with good anti-corrosive prosperity. Colors can be green, black, white, etc. Other color can be coated acording to customers' special requirement.
Application:Suitable for fencing houses and properties, companies, gardens recreation areas, parks,etc.

Welded Stainless Steel Mesh
Stainless steel welded wire mesh offers better strength, integration and longevity compared with other wire mesh products. Materials: Stainless steel 302, 304, etc.
Applications: Transport; Entertainment Facilities; Civil Use: as security & isolation fencing for pedestrians' pavement, transport center and other public places; Agriculture and Forestry: Fencing for goats, horse fencing and fencing for farms and livestock; Earth Surface Stability: Fabricated into containers, suitable for support of earth surface stability; Mine Exploitation; Industry & General Use: For machine protection, cage for equipment, support for cable and pipe, cover for fans and ventilation devices, etc.
Normal specification
Specification List of Welded Wire Mesh
Opening
Wire Diameter(BWG)
In inch
In metric unit(mm)
1/4" x 1/4"
6.4mm x 6.4mm
22,23,24
3/8" x 3/8"
10.6mm x 10.6mm
19,20,21,22
1/2" x 1/2"
12.7mm x 12.7mm
16,17,18,19,20,21,22,23
5/8" x 5/8"
16mm x 16mm
18,19,20,21,
3/4" x 3/4"
19.1mm x 19.1mm
16,17,18,19,20,21
1" x 1/2"
25.4mm x 12.7mm
16,17,18,19,20,21
1-1/2" x 1-1/2"
38mm x 38mm
14,15,16,17,18,19
1" x 2"
25.4mm x 50.8mm
14,15,16
2" x 2"
50.8mm x 50.8mm
12,13,14,15,16
Galvanized Fencing Mesh
Opening
Wire Diameter(BWG)
In inch
In metric unit(mm)
2" x 3"
50mm x 75mm
2.0mm,2.5mm,1.65mm
3" x 3"
75mm x 75mm
2.67mm,2.41mm,2.11mm,1.83mm,1.65mm
2" x 4"
50mm x 100mm
2.11mm,2.5mm
4" x 4"
100mm x 100mm
2.0mm,2.5mm
PVC Coated Welded Mesh
Opening
Wire Diameter(BWG)
In inch
In metric unit(mm)
1/2" x 1/2"
12.7mm x 12.7mm
16,17,18,19,20,21
3/4" x 3/4"
19mm x 19mm
16,17,18,19,20,21
1" x 1"
25.4mm x 25.4mm
15,16,17,18,19,20
Contact Us
| | |
| --- | --- |
| Telephone Number: | 86-318-7510021 |
| Fax Number: | 86-318-7800021 |
| E-mail: | sales@anpingweiqi.com |
| Contact Person: | Mr.Chen (Sales Manager) |